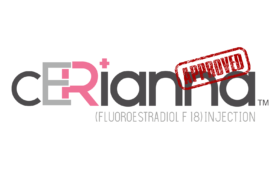 DENOS is pleased to announce that its biotech affiliate Zionexa, specialized in the development and commercialization of innovative biomarkers for diagnosis and targeted therapies in oncology, has FDA approval for Cerianna (fluoroestradiol F18). This molecule will help clinicians better guide treatments for metastatic breast cancer patients and improve patients' quality of life.
Cerianna is a molecular imaging agent indicated for use in positron emission tomography (PET) imaging for detection of estrogen receptor-positive lesions as an adjunct to biopsy in patients with recurrent or metastatic breast cancer. Cerianna (fluoroestradiol F 18) is the first FDA-approved F-18 PET imaging agent specifically indicated for use in patients with recurrent or metastatic breast cancer.
Cerianna (fluoroestradiol F 18) will be commercially available beginning in late 2020/early 2021 through PETNET Solutions, Inc., Zionexa USA's manufacturer and exclusive commercial distributor in the U.S. Additional manufacturing sites will be added as each site receives regulatory approval to commence manufacturing.
"DENOS is proud of Zionexa's achievement: US patients with metastatic breast cancer will benefit from this molecule. Cerianna will provide their doctors with additional information on the characteristics of patients' lesions that were previously unavailable. Those information will allow clinicians to better diagnose their patients and adapt the therapeutic strategy. Oncology is a crucial public health matter and DENOS is resolutely involved in research and development to help find solutions.", said Olivier Carli, Chief Executive Officer of DENOS.
Find the press release here :
https://www.denosgroup.com/wp-content/uploads/2019/07/Press-release-Zionexa-PETNET-Cerianna-FDA-approval.pdf